Damaged Suitcases? Our Warranty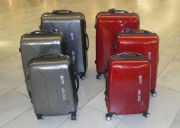 You have to contend with damage to one of your suitcase? Kangal & Co offers you to all the suitcases and bags in our range a guarantee on all possible material defects and bad workmanship. The respective warranty period depends on the material and is always mentioned in the warranty card. Bring your damaged luggage and bags to us at the Vienna Opera House passage in 1010!
An expert judge now whether it is a technical or an application error. Technical defects will be corrected or replaced immediately of course.
When is the warranty valid in case of damage to your luggage?
The Kangal & Co guarantee does not affect the statutory rights. Technical details in the production can be changed without notice.
Be careful with your Suitcases!
Locks protect against the unintentional opening of a product, also they can make the theft more difficult, but cannot prevent it.
When you are traveling by plane, you should examine your luggage directly after the handling of luggage by the airline. If it is damaged, complain immediately to the airline (which is insured against damage to baggage) at the destination, if possible, before the customs clearance of goods.
The Kangal & Co warranty for damaged suitcases and bags
You will find detailed information here